5 Best Facebook pixel plugin for WordPress
Having an optimized Facebook Pixel on your WordPress store is essential if you want to make the most out of your advertising budget and get a positive return on investment. One tool that can help you do this is a Facebook pixel plugin.
What is a Facebook Pixel?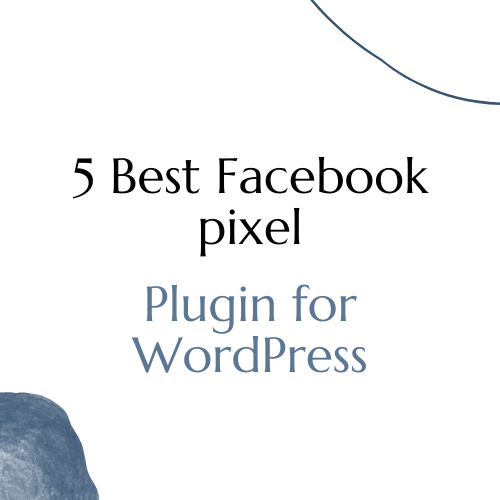 The Facebook pixel is an analytics tool that allows you to measure the effectiveness of your advertising by understanding the actions people take on your website. It collects data that helps you track conversions from Facebook ads, optimize ads, build targeted audiences for future ads, and remarket to people who have already taken action on your website.
Why Use a Plugin?
If you're running a WordPress site, there are a few reasons why you might want to use a plugin to manage your Facebook pixel.
First, adding the Facebook pixel code to your site can be challenging if you're not a developer or experienced webmaster. A plugin can take care of that for you and ensure that the code is added correctly.
Second, a plugin can give you more control over what actions are being tracked by your pixel. This can be helpful if you want to make sure that you're only tracking the most important events or if you want to exclude certain pages from being tracked.
Third, a plugin can offer additional features and integrations that might not be available if you're using the Facebook pixel code on its own. For example, some plugins can help you track conversions or add custom events.
Finally, a plugin can make it easier to keep your Facebook pixel code up to date. As Facebook changes its pixel code, the plugin can automatically update your site, so you don't have to worry about it.
Top 5 Best Facebook Pixel Plugin for WordPress
Now that we've gone over some of the reasons you might want to use a plugin to manage your Facebook pixel let's take a look at some of the best plugins available.

1. PixelYourSite – Your smart PIXEL (TAG) Manager
PixelYourSite is a plugin that helps you manage your Facebook pixel and any other pixels or tags you might want to add to your WordPress site. It includes features like conversion tracking, custom events, audience building, and more.
One of the best things about PixelYourSite is that it offers a wide range of integrations, so you can use it with other tools and services that you might be using on your WordPress site. For example, it integrates with WooCommerce, Easy Digital Downloads, Google Analytics, and more.
In addition to its many features and integrations, PixelYourSite offers excellent customer support. If you need help setting up or using the plugin, you can contact the team via email or live chat.

2. WooCommerce Pixel Manager
WooCommerce Pixel Manager is a plugin that helps you add the Facebook pixel to your WooCommerce store. It allows you to track conversions, add audiences, and create remarketing campaigns.
The plugin is easy to install and set up. You can create a Facebook pixel in just a few minutes. Once the pixel is installed, you can start tracking conversions and adding audiences.
WooCommerce Pixel Manager makes it easy to segment your audience and create targeted remarketing campaigns. You can also use the plugin to track customer behavior and optimize your WooCommerce store for conversion optimization.
However, you can only use it with WooCommerce stores. If you don't have a WooCommerce store, you can use other options in this list.

3. Pixel Caffeine
Another highly-rated Facebook Pixel plugin worth a mention is Pixel Caffeine. This plugin makes it easy to add the Facebook pixel to your WordPress site, track conversions, create custom audiences, and build lookalike audiences for remarketing. It also has built-in integrations for popular eCommerce platforms like WooCommerce, Easy Digital Downloads, and WP eCommerce.
Pixel Caffeine is a free plugin with a premium version that starts at $67 per year. The premium version includes additional features like advanced tracking for WooCommerce, support for dynamic events, and priority support.
4. Facebook for WordPress
Next up is the popular Facebook for WordPress. As the name suggests, this plugin was created by the social media giant themselves.
This solution is very similar to Pixel Caffeine in that it allows you to manage all your Facebook pixels from one place. You can create custom audiences, fire events, and track conversions easily.
One of the advantages of using Facebook for WordPress is that it comes with a wide range of features and integrations. For example, you can use it to show dynamic ads or create boosted posts directly from your WordPress admin panel.
The downside of this plugin is that it's not as user-friendly as some of the other options on this list. However, this shouldn't be a problem if you're comfortable working with code.

5. Pixel Cat – Conversion Pixel Manager
Last but not least is Pixel Cat, a newer plugin making waves in the world of Facebook pixel plugins.
Pixel Cat is a conversion pixel manager, meaning it's designed to help you get the most out of your Facebook advertising campaigns by optimizing your pixel data for conversions.
One of the things that set Pixel Cat apart from other plugins is its focus on simplicity and ease of use. The plugin has a user-friendly interface that makes it easy to add and manage your pixels and create custom audiences and events.
Pixel Cat also offers several features that make it easy to track and optimize your campaigns for conversions, including the ability to track multiple conversion events, create custom audiences, and manage your pixels in one place.
Overall, Pixel Cat is an excellent option for anyone looking for a user-friendly Facebook pixel plugin that offers powerful features for tracking and optimizing conversions.
What to Look for in a Plugin?
When it comes to choosing a Facebook pixel plugin, there are a few things you should keep in mind.
First, consider what features are most important to you. Pixel Cat is an excellent option if you're looking for a plugin that offers powerful conversion tracking and optimization features. However, if you're more interested in a plugin that's easy to use and set up, another option like Facebook for WordPress might be a better fit.
Second, ensure the plugin you choose is compatible with your version of WordPress. While most plugins will work with the latest version of WordPress, some may not be compatible with older versions.
Finally, look at the plugin's reviews and ratings to get an idea of how others have liked it. This can give you a good sense of whether or not the plugin is right for you.
The Bottom Line
There are a lot of great Facebook pixel plugins available, but which one is right for you will ultimately depend on your needs and preferences. Pixel Cat is a great option if you're looking for a powerful conversion tracking and optimization tool. However, if you're more interested in an easy-to-use plugin, another option like Facebook for WordPress might be a better fit. No matter which plugin you choose, make sure it's compatible with your WordPress version, and look at the reviews to get an idea of how others have liked it. here is another article that will help you get tracking and help you boost your sale