9 Best woocommerce multi vendor plugins
Do you want to improve your WooCommerce store but don't know where to start?
WooCommerce is WordPress's recommended plugin for creating an online store. What a fantastic online store builder! But it could be lacking in some of the more sophisticated tools essential for running a successful enterprise. That's where top-notch WooCommerce add-ons and plugins shine. The WooCommerce plugin and extension marketplace is rife with highly effective tools for expanding the store's functionality. The increased number of users clicking "Add to Cart" thanks to these plugins will directly translate into more money in your pocket.
Best woocommerce multi vendor plugins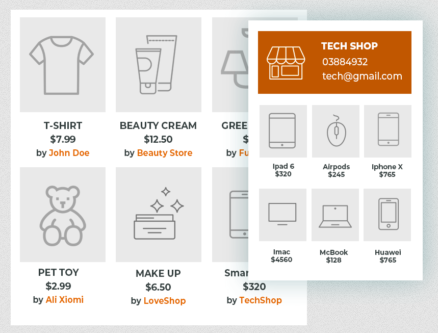 1. YITH WooCommerce Multi-Vendor / Marketplace
You can earn commissions from the sales your vendors bring in by transforming your online store into a marketplace (a multi-vendor platform).
How you can benefit from it:
Starting from your WooCommerce store, you can easily and quickly develop a sophisticated marketplace ecosystem similar to those seen on AliExpress, Amazon, and Etsy.
Avoid the headache of keeping track of orders, shipments, inventory, etc., by outsourcing the management of your online store. Vendors will handle every aspect of the sale on their own.
Earn residual money by taking a cut of sales made by the vendors, i.e., the users who have been granted access to publish products in your store.
With a comprehensive and ever-growing collection, you can boost your online store's visibility and longevity.
With YITH WooCommerce Multivendor/Marketplace you can effortlessly construct and manage any kind of marketplace. You, as the marketplace owner, will earn a commission on every transaction. Having more sellers in your shop means more customers and more money for you. As a result of this automated system, vendors drive foot traffic and generate revenue for the shop, and the marketplace improves in stature and stability. This will entice additional sellers to sign up for the service. It's a significant plus because you don't have to worry about stock or shipment management, or even returns and refunds. Your suppliers will operate independently throughout the whole sales process.

2.Product Vendors
Do you want to expand your current cash streams because you already have a popular website and a dedicated following? Or, perhaps you're interested in launching an online store but lack the funds to begin developing your inventory. When you install Product Vendors for WooCommerce, your WooCommerce-based store will immediately transform into a marketplace with the ability to accommodate numerous sellers, products, and payment structures. Let other people sell their wares through your platform while you focus on growing your community in exchange for a cut of the profits.
Why use Product Vendors?
Make a storefront where any product may be bought and sold. Digital downloads such as pictures, themes, fonts, audio or video, and even time-based bookings are all possible thanks to our interface with WooCommerce Bookings.
Don't stop marketing what you've made. Display vendor products for sales right beside your products.
Set vendor-specific commission rates. Incentivize new vendors to join your marketplace or reward loyal or high earnings with vendor-specific commission rates – while still setting a separate base commission rate across your marketplace.
Reduce your admin. Allow merchants to manage their products.
Don't pay commissions on orders that are not completed. Create a delay between assigning vendor commissions and the delivery of the order.
Use sales reports to maintain a competitive edge in your market. Learn the monthly sales, revenue, and commissions for each vendor.
Until refunds are processed, commissions should be withheld. If your customers decide to return real things, you can use PayPal Payouts to postpone your commission.

3. WCFM Marketplace – Best Multi vendor Marketplace for WooCommerce
We believe that WooCommerce Multi vendor Marketplace (WCFM Marketplace) is the greatest free front-end multi vendor marketplace plugin for WordPress and that WooCommerce is the best eCommerce platform. It allows you to create your ideal marketplaces like Amazon, eBay, Etsy, Airbnb, or Flipkart in a matter of minutes with very little preparation.
It includes all the features of our WooCommerce Frontend Manager and more. Stripe Split Pay, Zone & Country Wise Vendor Shipping, Product Inquiry & Review, Store Inquiry & Review, and Flexible Commission are just some of the robust and adaptable features available. Your online store's potential has just been unlocked with the help of WCfM Marketplace.
Using the FREE Vendor Mobile APP, you can take your vendor's experience in the marketplace to the next level.
With WCFM – Ultimate, your vendors will have access to advanced modules such as Store Invoice, Support Ticket, Shipment Tracking, Product Importer & Bulk Stock Manager, as well as WooCommerce Bookings, WooCommerce Appointments, WooCommerce Rental & Bookings System, WooCommerce Subscriptions, and WP Job Manager compatibility. Using the brand new WCfM Marketplace and the unwavering assistance of our staff, you can easily develop and administer your online store.

4. Dokan Multi Vendor Marketplace
Dokan is the leading front-end multi vendor marketplace built with Word Press and WooCommerce. In a matter of minutes, you can have your online storefront competing with the likes of Amazon, Shopify, eBay, and Magento. Dokan is the quickest method to launch an e-commerce business and begin earning commissions from a wide variety of digital, physical, and changeable products.
Superb Base for Launching and Expanding a Company. Allows our startup to expand internationally with minimal financial strain. The market for Dokan might be massive. And it's developed over the past few years. We have used this to create a dependable marketplace where hundreds of happy customers can shop with confidence. There isn't a better Word Press plugin for managing multiple sellers than this one.
Sales volume is not the main factor in determining a company's profitability. One can make money on Dokan in a variety of ways, including through vendor commissions and product-based commissions. Create subscription bundles to charge customers for features like unlimited product uploads and unlimited storage space. Dokan allows you, as the store's administrator, complete oversight over your marketplace's operations. You can become the vendor's go-to point for all product publication, vendor registration, subscription renewal, and other related tasks. Additional amazing features, upgrades, and potential for strong modules are available in the Pro Version to provide admins greater control and improve the marketplace's functionality.

5. WC Vendors Marketplace – The WooCommerce Multivendor Marketplace Solution
Using WordPress and WooCommerce, you may build your online marketplace for many sellers. Create your own online stores like Etsy, eBay, Shopify, or Envato in no time. Create your own multivendor marketplace and get a percentage of sales with WC Vendors Marketplace.
Marketplace solutions
There are several other multivendor marketplaces that have been built using WC Vendors Marketplace.
The Virtual Museum of Art
Farmers' markets in your area
Classes on how to cook
Online Sports Memorabilia Auction
Thrift shop for books
Uniquely crafted pieces
Quick and simple to operate
If you're new to setting up an online marketplace, WC Vendors has a setup process to help you get started. That way, you can start making money almost immediately.
Best support available
We are committed to delivering high-quality, secure, and reliable code, and we take pleasure in our ability to respond quickly to any inquiries or concerns. Updates are released on a regular basis to ensure that your online marketplace business runs efficiently. Based on WooCommerce and industry best practices, we prioritize providing our users with the most useful eCommerce functionality possible.
No restrictions
You can create as many sellers and products as you like with WC Vendors Marketplace. As a result of your marketplace's flexibility, sellers will be able to provide a wide variety of products, such as:
Tangible Goods
Products that can be downloaded digitally
Variable Products
Our WC Vendors Subscriptions plugin allows you to sell subscription products. Using the WooCommerce Bookings plugin by WC Vendors to make a purchase. Use the WooCommerce Simple Auctions plugin to conduct auctions with our WC Vendors. To illustrate, this opens the door to the possibility of building any number of different types of marketplaces like
Craft Shop Specializing in Wooden Furniture
Download sites where one may purchase and download media such as songs or pictures
A marketplace for reserving and marketing culinary instruction
Auction websites such as eBay

6. Vendorpro – multi vendor e-commerce wordpress plugin
When it comes to fostering long-term affiliate business on your e-commerce website, there is no better option than the VendorPro plugin, the newest, most feature-rich, and unique plugin in the digital world. It allows you to accept PayPal as a safe payment option, have multiple vendors on your site with affiliate privileges, earn commissions from their sales, and much more. Your online store will have a leg up on the competition thanks to the enhancements made possible by this WordPress plugin.
The VendorPro plugin not only lets you add many merchants, but it also lets you divide up the money they bring in. The plugin includes a dedicated option for establishing a product-level commission rate, which can be modified from the plugin's settings page. There's a special tab for commission settings, so you can see how much money each seller has made in commissions and how much is still owed.
How to Become a Vendor?
Potential vendors can access a comprehensive application form on the website's front end; once submitted, the form will be reviewed and approved by the site's administrator. As an administrator, all you need to do is make a page and insert some code into it.
Why You Should Use the VendorPro Plugin
Integrating a multi-vendor environment requires little in the way of human labor; just a few mouse clicks will do the trick.
Broadening your online marketing footprint by including multiple sellers on your e-commerce website.
There will be more people checking out your online store thanks to this plugin.
It will assist you in maintaining an accurate record of purchases, returns, and vendor commissions.

7. WC Vendors Pro
The WC Vendors marketplace is a ready-made product. You may skip months of development and have it up and running in no time. Your sellers may now easily and rapidly manage their stores with the help of WC Vendors Pro. Now that the sellers are in charge, you can devote all of your attention to growing your marketplace. Lessen your burden, and help you save both time and money. When it comes to marketplace plugins for WordPress and WooCommerce, WC Vendors is your best bet. We designed it so that as your popularity grows, your site won't experience any sluggishness or storage issues. If you want an adaptable marketplace, WC Vendors Pro is the way to go. The vendor dashboard is a front-end application that gives vendors full control over their store's inventory, sales, discounts, and other features. This frees up time for the marketplace administrator to concentrate on advertising the platform and developing seller resources for the marketplace's vendors.
If you want to see how Pro works and how it has evolved, you should try out the WC Vendors Pro Demo.
Keeping tabs on sales data from different vendors is now a breeze with the help of Pro Dashboard.
Front-end product editing and addition with full functionality
Order tracking, label printing, order marking as shipped, and other features are all accessible to vendors.
"WC Vendors Tax" is included in the WC Vendors Pro version, automating the collection of sales tax. Use our fully-automated sales tax system to confidently charge your suppliers and consumers the correct amount of tax.
The front-end dashboard provides complete support for all product kinds, including the basic, grouped, downloadable, and variable varieties.
Two different shipping options are offered per item using the Pro Shipping Module. Both a flat rate and a country rate are available. You may check out the complete manual here. At present, we do not support shipping to certain zones.
Vendor Shipment Tracking with Tracking Number Input.
Sales tiers, as well as other commission structures, including fixed fees, fixed fees plus a percentage, fixed fees, and fixed fees plus a charge.
To date, marketplace administrators are unable to generate coupons for their service, but merchants can generate "Vendor-Only" coupons that can be used only on a vendor's specific products.
Branding for the retailer, including a banner and an emblem representing the shop.
Include social media platforms like Facebook, Twitter, Google+, and more with this plug-and-play module.
Your business and admin panel may look and feel exactly how you want it to use this fully-featured template system.
WC Sellers Pro is an add-on to WC Vendors Marketplace that gives you and your vendors advanced features for building a robust online marketplace.

8. Multi-Vendor Marketplace for WooCommerce
Transforms your online store into a thriving marketplace where buyers may purchase goods from a variety of vendors, each of whom has their unique profile and access to a seller panel where they can put their wares. This add-on allows the vendor to access and update his profile. He can look at his product catalog and do things like search, change prices, and remove items. In his or her dashboard, the vendor can see a history of their transactions as well as sales charts. He has access to all of his past orders, can alter his password, and can even pose inquiries to the administrator.
The admin also can control the catalog of goods, the catalog of sellers, the commissions, and the preferences. Settings such as automatic product publishing and seller auto-approval rights, as well as the ability to update and delete products, approve or disapprove sellers, and assign sellers to items with varying commission rates, are all under the purview of the admin. Anyone with an internet connection and the desire to generate some additional cash can use this plugin to do so successfully. The best part is that you don't need any special skills to get it up and running. Developers should be commended for making the initial configuration simple enough for complete novices.
In addition, it has some neat extras that you won't find in similar plugins. Updates and new features added by the developers regularly make it better than ever. When it comes to running an online store on WordPress, the WooCommerce Marketplace is, without a question, "the game-changer." There's no use in wasting time hunting for a replacement; the plugin's fantastic capabilities are available right now.

9. Multivendor Marketplace Solution for WooCommerce – WC Marketplace
Have doubts about creating an online marketplace? Oh, don't fret. If you're looking for the best marketplace software to launch your online eCommerce marketplace, look no further than WC Marketplace. With this free WordPress plugin, you can build a marketplace with all the bells and whistles.
For what reason do we need wcmp?
To help newcomers to the market, we've compiled a list of free resources available on the web: Any type of online marketplace, from general-purpose sites like Amazon to more specialized ones like Etsy, maybe run efficiently with the help of the tools provided by WC Marketplace.
Get up and running quickly with the help of the WC Marketplace plugin's Easy Setup Wizard.
WCMp provides a customizable registration form, which eliminates the need for time-consuming and laborious processes related to designing individual forms. You have complete control over the specifics of your inquiry using this registration form.
Tailored Dashboard – WCMp provides you with an intuitive dashboard that can be used to monitor the progress of your vendors and the work they have completed. This dashboard can be easily transformed into a sales dashboard, report dashboard, or management dashboard, depending on what it is being used to monitor and control.
Product Manager — This WooCommerce marketplace plugin provides you with key management features to transform your standard store into a product multi vendor market. Using the supplied tools, sellers may easily add items to their stores, as well as export and import data on those products.
Conclusion
All of the aforementioned selections are geared toward easing the burden of using your e-commerce site on your customers. Keep in mind that a streamlined user experience and few interruptions are essential for online shopping to succeed, as this will increase the likelihood of conversions and repeat business from existing customers. What if you weren't selling goods, but rather scheduling appointments? In that case, it's of paramount significance! For firms like these, repeat clients are invaluable.