5 Best woocommerce points and rewards plugins
At least sixty percent of an online shop's revenue comes from returning customers. With the help of a WooCommerce Points & Rewards program, you can encourage repeat purchases and keep your current clientele happy. Incentives like points and rewards that can be redeemed for a price reduction on a future purchase can make your consumers feel appreciated. That's possible with the help of a loyalty point's plugin for WooCommerce. Customer loyalty and participation can be increased with the help of targeted incentives. You should create a loyalty rewards program right now if you haven't already.
Here is a list of the finest WooCommerce Points & Rewards plugins available to help you implement a loyalty program for WooCommerce and award points to consumers for various actions such as making a purchase, and signing up, leaving a positive review, referring a friend, etc.
5 Best woocommerce points and rewards plugins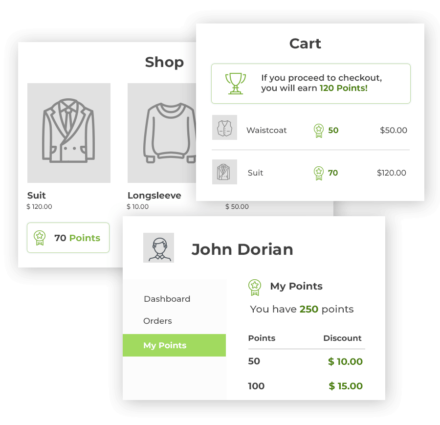 1. YITH WooCommerce Points and Rewards
YITH WooCommerce Points and Rewards is a plugin designed for people who want to promote customer loyalty by integrating a "Points and rewards" program on their website. During the course of the transaction, they will earn points that can be redeemed for a price reduction on future purchases. You'll have a much better chance of increasing sales and profits if you can keep your customers coming back for more.
Advantages you'll reap from using it:
Customer retention: With points, you can boost the number of customers who remain loyal and stimulate repeat purchases in order to gain redeemable points.
Cultivate relationships: the accumulation of points psychologically rewards customers and fosters the customer's long-term relationship with the store.
Customers are more likely to make a purchase when they are incentivized to do so by a points system (47% of consumers complete the collecting of points to earn a discount coupon or a free product).
Improve client satisfaction by offering those discounts, prizes, and points. Happy customers are a key to a successful business.
Using gamification, you can increase sales by giving customers goals they must complete to advance to the next level or receive a badge.
Allow for a referral system in which users can earn points for spreading the word about the service. They can earn rewards for referring new customers and for each purchase made by an existing client using their referral link.

2. Points and Rewards for WooCommerce
The Points & Rewards for WooCommerce plugin is a points management tool that encourages consumer participation through the awarding of points for a variety of in-store actions (registration, purchasing, referring friends, etc.). With the WordPress loyalty points plugin, customers can earn points toward future purchases or membership in your loyalty program. You may increase your store's revenue, ROI, conversion rate, CLV, and referral marketing reach by implementing the WooCommerce Points & Rewards plugin.
Benefits
To keep your customers interested, use the WooCommerce Loyalty Points Plugin to award them with points for signing up, referring friends, making purchases, etc.
Make use of a membership program to give repeat consumers special discounts and perks.
Maintain a point log report to monitor each customer's point activity.
Your clients' point totals can be manually updated via the points table.
Customer point transactions should be communicated to them by email.
Use WPML's multilingual capabilities to advertise your reward points in a variety of tongues.
Set a new point value for the entire order and redemption in the shopping cart.
Incorporate the global point and assign a feature to provide all simple products the same point value.
Offer a fixed number of points for an adjustable order total price
Hooks to make the admin's points page more comprehensive

3. WooCommerce Points and Rewards
Give points that may be redeemed for savings to your customers in exchange for purchases and other actions. It's simple to adjust the point-earning rate (how many points are awarded for a given dollar spent) and the discount redemption rate (how many points are required to receive a given discount). You can choose the maximum discount that can be redeemed for points and decide whether they are provided per product, per category, or globally.
Features
You should specify how many points are awarded for each transaction and what those points are worth in terms of savings.
Set a maximum percentage off with points for an entire order, a specific category, or an individual product.
Giving out points for things like joining up or leaving a review of a product is a great way to encourage engagement.
Customers can start redeeming points for discounts right away if points are applied to all past orders.
Make immediate changes to a customer's points total.
Track the history of all customer point adjustments
Gain Reward Points for Various Activities and Expenditures
You decide how many points are gained for every dollar spent. One possible loyalty program awards 1 point for every $1 spent by a consumer. You can influence clients' propensity to buy by changing this conversion rate on a per-category or per-product basis. Earned points are visible both in the shopping cart and at checkout.
Receive Discounts by Redeeming Points
Based on the exchange rate you establish, customers can receive rebates in exchange for earned points. You could be able to redeem $1 in savings for every 100 points you earn. You can limit the maximum discount at the cart, category, or individual product levels.

4. WooCommerce Reward Points
WooCommerce's built-in Reward Points loyalty plugin is an easy way to reward repeat buyers and drive up sales. Members can accumulate points through a variety of means, including purchases and sign-up. If they accumulate enough points, they can exchange them for prizes. Offering discounts or free merchandise in exchange for continued patronage is a tried-and-true Neuromarketing tactic. Okay, so what do you think? Now is the time to start working on your dedicated program in Woo.
Features
Our plugin provides a variety of methods for your clients to accumulate points quickly and easily. You may award points for things like the total amount spent, new user registration, first purchases, rating and reviewing products, signing in, sharing the site, and so on. We've got the majority of bases covered. If there is something more you think we should add, please let us know! Limits on how much can be spent with a given number of points, as well as minimum and maximum amounts, are all customizable.
Customers will be even more energized by our in-built level system, which can be accessed via the menu at the top of the page. Consumers who attain various milestones in their shopping journeys receive badges and other perks.
Customer loyalty points can be redeemed in real-time during the shopping cart and checkout processes. Use your redemption rate, such as 1000 points for $1, and watch as your sales margin rises thanks to the additional business.
Send automated emails to your consumers informing them of their new point totals and levels as they reach a new milestone. Make sure they remember their points and give them a reason to come back and buy more.
To keep track of my points and rewards, I need a straightforward interface under the "My Points" part of my account. We made sure that you could include individualized sentences, and even introduce point-specific variables. In addition, we included a "my rewards" area and a points log, as well as our very own dynamic points bar with four different looks. Every feature can be turned off if you ever find yourself not using it.
You'll want the freedom to easily insert your text or translations, so our dynamic texts can be fully customized to your needs. This is why our plugin doesn't even have separate texts for things like the product page, category page, cart page, checkout page, and thank you page. You can even have different messages displayed to people who are logged in and those who aren't.

5. WooCommerce Ultimate Points And Rewards
If you want to retain more customers and boost conversions, go no further than the WooCommerce Ultimate Points & Rewards plugin. If you're having trouble boosting sales, you need to implement loyalty points and rewards system in WooCommerce. You may incentivize repeat business from existing clients by providing them with loyalty points using this plugin for WooCommerce. WooCommerce Points and Rewards makes it simple to set up a loyalty program for your online shop. Customers can use the loyalty points they've earned to get discounts, freebies, or coupons. In addition, the points can be used for loyalty membership, allowing you to join the brand's community of loyal customers.
Benefits of WooCommerce Ultimate Points and Rewards
It provides the option to implement advanced shop functionality, such as gift card redemption.
To encourage repeat business and loyalty among existing customers, you might offer those discounts and loyalty points.
By rewarding customers for sharing their thoughts on your products through reviews, referrals, purchases, and sign-ups, you may grow your loyal customer base.
Your clientele can rack up in-store rewards points for all sorts of purchases and visits. Customers can earn more loyalty points by making more purchases and taking more actions.
With the help of the WooCommerce loyalty plugin, you may cultivate your very own fan base.
Enhance WooCommerce's customer lifetime value by implementing a loyalty program.
Infinite Rewards & Points for WooCommerce benefit both businesses and consumers by selling hemp.
Conclusion
You have now examined a selection of the finest referral plugins for WooCommerce. All of the above WooCommerce reward plugins are the highest quality options available, and we've gone through their features and costs in detail. Which one would you pick if you wanted to increase your WooCommerce store's sales and income the most? Choose a WooCommerce Points and Rewards plugin that can accommodate the needs of your loyalty program before making a final decision. You should be able to execute conditional campaigns, reward consumers for all their activity, and enhance the reward system overall with the help of a strong loyalty plugin. With a WooCommerce Loyalty program in place, you can encourage client loyalty and repeat purchases.