5 best WooCommerce dynamic pricing and discounts plugin in 2022
Nowadays, everyone is looking forward to having a WooCommerce store. However, successfully running it is never easy if you have many competitors. You are likely to find enhancing sales difficult. This means running WooCommerce exceptionally. You need to think out of the box and develop smart skills, coherent strategies, and tactics to make your store unique.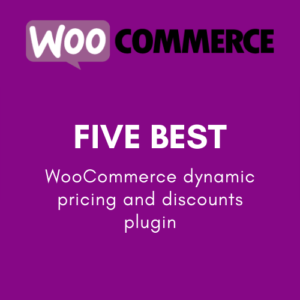 You must consider pricing and discount among the strategies because they will help you capture your customers' attention. This comprehensive review has sampled the 5 best WooCommerce dynamic pricing and discount plugin. Therefore, it will give you insights and clarity into every plugin mentioned below. Without further ado, let us begin.
YITH Dynamic Pricing and Discounts
This plugin is packaged with many features, such as free products, promotions, special pricing, and discounts. All these features will allow you to get your customers' attention freely, boost sales, and maximize the number of visitors. YITH Dynamic Pricing and Discounts gives your WooCommerce store life by giving discounts depending on the quantity, cart value, and product categories. On the other hand, it allows you to set pricing rules and conditions, leaving your customers feeling more privileged.
Key features
Utilize gift free feature and get potential customers revisiting your store
Add notes to your entire products to inform your customers about your discounts
Minimize workload by having multiple products with the same pricing rules
Get you a discount based on user roles, product categories, total quantity, and cart value
Showcase difference in prices based on the purchased item quantity and assist customers in making wise decisions
Pros
Set up guides and documentation are available
Excellent customer care services
It enables you to schedule discounts for all your items
Cons
It is not worth an investment
Dynamic Pricing
Dynamic pricing incorporates advanced product pricing. Therefore, you can come up with bulk discounts for every product that appears to be in your store. You can easily achieve this by developing a table featuring discounts and quantities. Furthermore, you can select from percentage adjustments price adjustments or come up with a fixed price for your items. Ensure you tally quantities utilized in your quantity pricing table, and this depends on the product's cart quantity, every cart line item, and an individual variation. Advanced product pricing is essential when discounting an item depending on the buyer's quantity. For instance, if a customer buys 10, they get a discount of 20%.
It also has advanced category pricing, which helps it design bulk discounts based on product categories. You only need to develop a quantity table and the discount amounts. Make sure you select between a percentage-based adjustment and a fixed price adjustment. You must know that advance category pricing is essential when you want to adjust the price of items in a particular category. However, it depends on the figure of items a customer purchases.
Key features
Simple role-based pricing- Create discounts for the entire products in your store for workers in the duty you develop
Simple category pricing configures discounts for the entire items in the product category and needs you to select between a percentage-based adjustment and a fixed price adjustment.
Pros
It is an excellent plugin that delivers outstanding results
It is economical and pocket friendly
Easy to use and install
Cons
It might not showcase price change or options
WooCommerce Dynamic Pricing & Discounts
This plugin is a multi-purpose promotion and pricing tool specifically for online retailers. Its flexible pricing conditions and methods give it power since they can be combined to fit any pricing strategy appropriately. Bear in mind that this tool outdoes multiple tools since you can utilize it for location-based pricing, behavioral pricing, loyalty programs, individual pricing, member pricing, wholesale pricing, and flash sales. You can also use it for day deals, bundle pricing, tiered pricing, bulk pricing, special offers, promotion, and regular sales.
Key features
Unmatched flexibility and power, for instance, offering certain prices up to a particular duration
Many methods and strategies, for example, buy a school bag get one book free
Storewide rule management guarantees potential customers a discount
Conditional cart discount, this happens if you buy at least several items and get one free
Dynamic pricing adjustments, for instance, purchase 20 units and get a discount of 10%
Pros
It is an excellent plugin for beginners
It is easy to use as well as set up
Allows you to initiate a lot of pricing and discount combination
It is a multi-purpose, promotion, and pricing tool
Cons
It does not have an active support team
Dynamic Pricing & Discounts Lite for WooCommerce
Do you own a WooCommerce store? If so, consider Dynamic Pricing & Discounts Lite for WooCommerce, which gives you exceptional answers to all your questions regarding your business. Furthermore, it is easy to use, understand, and install on your online website for shopping. You must know that this plugin features a discount and pricing toolkit, which assists you in implementing varying models of discount depending on the cost of any category or product. On the other hand, if you have a discount rule not incorporated in this plugin, you can always request it to be implemented, which is usually done at a free cost.
To use this discount and pricing toolkit, ensure you create rules and conditions necessary for applying varying discounts from the given settings. After that, you can choose to either disable or enable any of the given rules for your discount. Besides, this also applies to pricing your selected category or product, which meets preset conditions and regulations.
Key features
Rule to initiate a plus member
Shipping methodology depends on the discount
Product tier discount
Buy one get one (BOGO) product offer
Cart-based discount
Category based discount
Product discount
Pros
Increases sales
Saves time
It enables you to get long term customers
Suppose you have a discount rule that is not available on this plugin; they are ready to implement if you notify them
Cons
It does not work as advertised
ELEX WooCommerce Dynamic Pricing and Discounts Plugin
This plugin puts an end to your worries about WooCommerce by assisting you in applying discounts, especially at cart levels, category, combination, and product. Furthermore, it guarantees you dynamic pricing, which does not feature complex configuration and calculations on your admin panel. It is also easy to apply complex rules depending on the flat discounts or percentages. In addition, you can come up with a new price without much effort.
Most people consider ELEX WooCommerce Dynamic Pricing and Discounts Plugin because it has one remarkable feature that outdoes other plugins. And this refers to the unique control it offers store owners to initiate a maximum discount limit over each rule. Similarly, this plugin provides you with several exceptional features suitable for WooCommerce Discounts, making it one of the excellent WooCommerce dynamic pricing plugins for your entire business.
Key features
ELEX WooCommerce Dynamic pricing and discounts plugin is compatible with other plugins, such as WooCommerce Product Add-on and ELEXtensions plugins.
A showcasing offer table on your product page helps you display the entire rules associated with a specific product. This makes the buyer familiar with all discounts available.
It has a pricing table on the product page to ensure that you display the entire product rules on its product page as the store owner.
Guarantees you buy one get one (BOGO) discount depending on the WooCommerce product tags
Gives discount depending on WooCommerce product tags
Guarantees you discount depending on WooCommerce combination
Gives discount depending on WooCommerce items featured on the cart, WooCommerce product category
Sets up WooCommerce products discount
Pros
The license guarantees you a year of updates and support
It offers you a 30- day money-back guarantee
This plugin is simple to utilize and work with
Allows you to set discounts and pricing depending on the purchasers buying history
Cons
Each plugin installation needs a license key.
Final verdict
Based on this review, you now have a clear understanding of the 5 best WooCommerce dynamic pricing and discounts plugins. Additionally, pricing rules are simple to establish and apply with plugin assistance. If you spend sufficient time setting rules, you will gain powerful results by raising profits and sales.