10 Best WordPress plugin for blog subscription in 2022
Plugins are essential for any WordPress blog, whether it's your first or you want to improve an existing one. Finding the best WordPress plugin for blog subscription, on the other hand, might be difficult. You don't want to have too many plugins, especially if they're old ones. As a result, when it comes to adding plugins, it is critical to do it with care and judgment. Free WordPress plugins abound to help you enhance your blog's look, feel, and usefulness. WordPress plugins are essential for bloggers for a variety of reasons, which we'll go over in this post.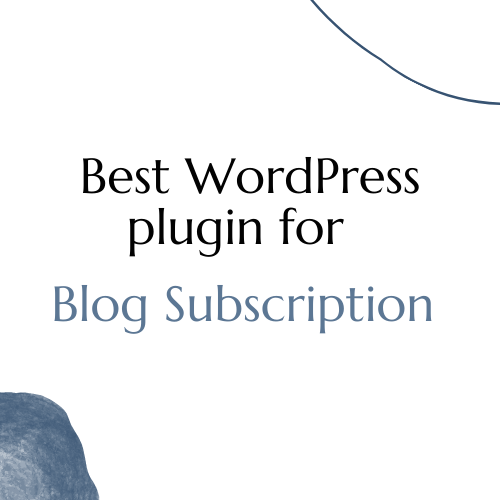 Plugins in WordPress
Because of its popularity, WordPress is the most widely used content management system (CMS). A blog may be started and maintained quickly and easily, even with limited technical skills, thanks to this flexible and user-friendly platform. WordPress has a slew of built-in capabilities that make it easy to do the bare minimum of blogging. You may add multimedia elements, give tags, and categorize your content all in one place. Depending on the type of blog you have, you may also choose from a wide variety of WordPress themes.
When it comes to functionality, themes can only get you so far in terms of design and customization. Plugins are a necessity if you want your blog to stand out and help you achieve your marketing objectives. Extensions to your WordPress site that improve its visual look as well as its functionality are referred to as plugins. It is possible to find countless plugins for WordPress in the Plugin Directory. Many of the top WordPress plugins for bloggers are simple to set up and some of them are even free of charge.
10 Best WordPress plugin for blog subscription
1. RafflePress
RafflePress is the greatest WordPress plugin for running contests and giveaways. You don't need to know HTML to run effective giveaways and build your email list. If you have a WordPress website, you can set up giveaways and allow your visitors to enter by following a set of rules. RafflePress offers a variety of options for entering contest entries. With social media platforms and a Newsletter Subscribe entry, you may grow your mailing list even more effectively than before. And if you want to get more people to sign up for your newsletter, you may give them additional chances to do so.
With this strategy, you may get more leads and establish a strong email list. It also provides seamless interaction with prominent email marketing platforms so that you may build and manage your leads using the tool of your choice. RafflePress is more than simply a giveaways plugin; it has a slew of other useful capabilities as well. You can learn more about RafflePress in our in-depth RafflePress review.
2. SeedProd
WordPress plugin SeedProd can help you increase your subscriber list. It's a free one. The SeedProd WordPress landing page builder is a sophisticated drag-and-drop tool. Create high-converting landing pages in WordPress to boost your subscriber base and enhance sales. Users are more likely to convert if you use landing pages to provide valuable content. Create a free download on your squeeze page, for example, to entice visitors to sign up for your mailing list.
With SeedProd's ready-made landing page templates and drag-and-drop editor, this is a cinch. It is possible to create any web page without the need for coding. And with just a few clicks, you may personalize your page to your heart's content. An integrated Coming Soon Page and a Maintenance Mode are also included with SeedProd. It's possible to get people on your mailing list when you're launching a new website, so they'll know when it's up and running. All of the above is included in SeedProd's free edition. More features are unlocked in Pro, such as page modes, hundreds of template variations, additional landing-page building blocks, email connectors, and subscription administration.
3. Newsletter
In the WordPress dashboard, a popular plugin called Newsletter is available to create, send, and manage newsletters. A dynamic visual composer opens in your WordPress dashboard with the Newsletter plugin. Beautiful email newsletters can be created by dragging and dropping various components. The plugin has both free and paid options. Only a few reporting options are included in the free version. However, the pro edition has a slew of additional options. Add a pop-up or subscription form to your WordPress site with this plugin. Split your email list and automate your blog newsletter.
A WordPress SMTP plugin can assist you to send newsletters if you're having trouble doing so directly from WordPress. Learn how to fix The Newsletter Plugin not sending an email by reading this post. Within WordPress, a visual composer is available for use with the Newsletter Plugin. You can design whatever kind of email you wish to send by dragging and dropping components into your layout. To our knowledge, Newsletter has one of the most user-friendly editors. Compared to MailPoet, the key advantage of The Newsletter Plugin is that it seamlessly integrates with WordPress' built-in SMTP service. WP Mail SMTP's email monitoring, reporting, and logging features can be used to monitor your newsletters. In addition to the Newsletter Plugin's tracking functions, these will be useful on their own.

4. MailPoet
A WordPress newsletter plugin called MailPoet allows you to create email newsletters right from your dashboard. As a bonus, it's a fantastic WooCommerce email customizer, too! WordPress email and newsletter plugin MaiPoet is widely used. To build your mailing list, you can construct and add a subscription form. You may import a list from your CMS and start sending emails right immediately, making the process much more manageable. Automated emails can be created using the included feature. You can, for example, send new subscribers a welcome email. Multiple emails can be scheduled to be sent at various times.
MailPoet is a great option for WordPress users who would like to keep all of their marketing activities in one place. You may easily create newsletters with the plugin's drag-and-drop visual composer. MailPoet's Sending Service allows you to send up to 1,000 emails per month for free. In order to send more messages, you'll need to pay a monthly fee. The premium plugin is also available for $149/year without the email sending service.
5. Email Subscribers and Newsletters
Another free WordPress newsletter plugin, Email Subscribers and Newsletters, allows you to send out emails to your subscribers. Like the Newsletter plugin, it has a lot of the same functionality. It is possible to send email newsletters and post notifications directly to your subscribers from WordPress. You can send as many newsletters as you want, and you can set up an automatic notification for each new blog post. An email subscription box can be placed anywhere on your website with the help of the Email Subscribers and Newsletters plugin. It is also compliant with the GDPR.
You can have an unlimited number of subscribers and newsletters with this plugin. It also complies with the General Data Protection Regulation (GDPR). There is a slightly more user-friendly composer in the plugin, but it does not have any drag and drop features. Additionally, you may use it in conjunction with WP Mail SMTP to resolve any difficulties with WordPress failing to send email.. WP Mail SMTP's extra features, such as the best email logging and tracking tools for WordPress, are also included in this package deal. Downloading Email Subscribers and Newsletters is completely cost-free. Creating autoresponders and digests is included in the Pro edition, which starts at $6.50 per month when paid annually.
6. Newsletter Glue
Glue is a new player in the WordPress mailing plugin market, having only been around for a few months. It allows you to send any blog article by email to your readers. Because it lacks a built-in designer, Newsletter Glue is unable to produce its own graphics. A normal WordPress post is used instead. Newsletter Glue allows you to add certain blocks and select which portions of the page you want to include in the related email in order to use Newsletter Glue. Set up your newsletter details beneath the post creation page when it's time to deliver your post as a newsletter.
You can post a different version of the newsletter on your blog with the free version's show/hide functionality. WP Mail SMTP is incompatible with Newsletter Glue since it does not support SMTP. When it comes to email tracking and sending, you won't have access to them. Instead, you can use the plugin to connect to different email services.
7. OptinMonster
Email newsletters and campaigns are among the most effective ways to develop your audience and increase sales. It's possible to get the most out of your promos and offers by creating a strong list of email subscribers. Of course, you'd like to see a high percentage of your site visitors return. If people sign up for your email list, this is more likely to happen. If you want to expand your email list more quickly, we recommend adding opt-in forms to your WordPress site. As a lead-generation tool, this is a simple approach to collect visitor information.
OptinMonster lets you choose from a variety of eye-catching layouts and form types, or you can start from zero and design your own. You have the option of customizing them depending on audience targeting and segmentation and behavior automation. Using this method, you can ensure that your offers are delivered to the correct customers at the right time. OptinMonster, like most WordPress plugins, provides a free option. It's possible to take advantage of more complex services, such as opt-in forms and email newsletters, for as little as $14 per month.
8. MailOptin
Creating an email list is one of the most critical aspects of maintaining a blog. Email optin forms can be shown on your site with the help of MailOptin, a freemium plugin. Email marketing platforms like MailChimp and ConvertKit may be easily integrated into your website with the MailOptin plugin. Choose one of the opt-in forms and a pre-made template, and you're done! From here, you can change the template's colors, fonts, and graphics. Upon completion, you will be given a shortcode to embed the form in your website, or you may decide which sites you want to display it on, if you've made a popup.
Your site can quickly gather email addresses by using this plugin, whether you're giving away an ebook or simply promoting blog post alerts. There's also a rudimentary newsletter service that keeps an eye on your blog feed and sends out new post notifications when new ones appear.
9. Optimole
As a blogger, your posts may contain up to ten photographs. With a plugin like Optimole, you can ensure that every image is completely optimized, ensuring that the page does not slow down. There are a lot of ways that Optimole can improve your photos. To begin with, the photos are only loaded as they are scrolled up and into view. As a second benefit, it reduces the file size without sacrificing the quality of the images. Finally, the photographs are automatically resized to fit the visitor's screen. And what's even more astounding is that it takes care of all three of these tasks without any human intervention. There is no need to do anything other than enable Optimole and your website will automatically load faster.
10. WP Forms
To make it easier for people to get in touch with you, you should provide contact forms on your site. For targeted marketing purposes, a well-designed contact form can be used to capture visitor information. It has a drag-and-and-drop form builder that allows you to quickly create complex forms. Using the plugin, you can quickly and easily customize your contact forms from your dashboard after installing and activating the plugin. We recommend purchasing a premium membership if you want to take advantage of all of the forms features. Unlimited forms and templates are included in the Basic ($39.50/year) plan. If you're only working on one website, this is a good option.
Conclusion
Making your first WordPress blog and keeping it up and running might be frightening. Plugins, on the other hand, can take a plain and boring blog and convert it into something dynamic, one-of-a-kind, and completely functional. We've covered ten of the most essential WordPress plugins for bloggers in this article. Regardless of the type of blog you run, this list serves as a good starting point for managing the critical daily activities on your WordPress website.